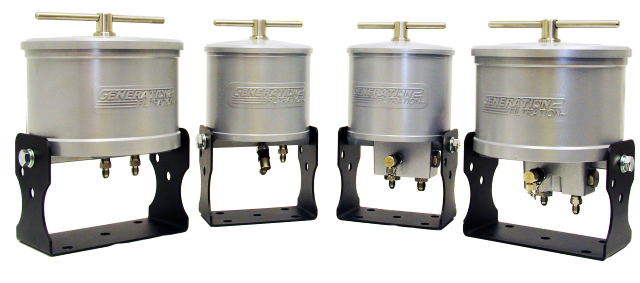 To provide continuous filtration, a permanent installation of the G2F is recommended. However, the use of a Portable Filter Cart can be
extremely beneficial to customer who are faced with a major contamination problem that needs to be rectified immediately while the equipment is down for repair. Simply connect the supply and return lines to the cart and place them in opposite ends of the oil reservoir, plug in, and switch the unit on.
A portable cart can be used to 'Pre-Filter' new oil, dramatically decreasing particles in the oil, before they can enter the system. In situations where an equipment owner has 'back-up' units which are not in operation year round, a portable cart will enable them to keep the oil at a good cleanliness level, even if the equipment is not in operation.
In situations where the oil in a system is not constantly in circulation, or there is no oil pressure available to supply the HP or LP series, the portable cart would be used.
Our portable carts have their own pump to obtain oil supply from a reservoir. Once filtered the oil is simply returned to the reservoir, free of water and ultra-fine contamination.
A G2F Portable Filter Cart is also ideal for transferring fluids, minimizing contamination and spills.