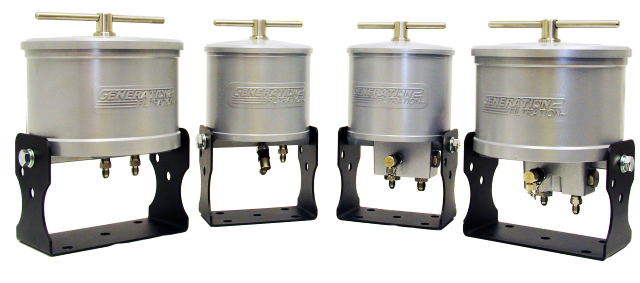 Solve Big Contamination Problems Fast
Designed to clean oil fast and continuously, our G2F Portable Filtration Carts can filter out ultra-fine contamination down to 1-micron with 99.97% water removal. We have a variety of carts to accommodate a wide range of flow rates and applications, including reclaiming industrial fluids such as: hydraulic oils, synthetic oils, lubricating oil, drawing oil, cutting oils, gear box oils, ester base fluids, transmission fluids and water glycol.
Each cart has a suction and discharge port. Hoses are connected to each port then placed within the reservoir containing the fluid. Once the cart is turned on, it will polish the fluid continuously if the equipment is in operation or not. The oil moves up the centre core of the G2F Element, before passing down through the 4-stages of micro-depth filtration. Water is removed and the oil is filtered down to 1 micron then discharged from the outlet of the unit, the polished oil is then returned to the oil reservoir at atmospheric pressure. The G2F Element is to be changed at regular intervals, determined by the rate of contamination produced by the system, and the environment it is operating in. Our Portable Filter Carts are custom designed with an electric pump/motor (110 volt or 220 volt) or if electricity is not available we supply the cart with an air diaphragm pump. Oil analysis with an ISO particle count is recommended to monitor oil contamination levels, allowing one to meet and exceed targeted oil cleanliness levels.
G2F Portable Filter Carts give our customers the flexibility to provide ultra-fine filtration no matter where it is required. With an independent oil supply to the G2F filtration unit, our carts provide addition benefits to our customers including: Pre-Filtering 'new' oil, removing any contamination that may have entered during transit or in storage prior to use, or to transfer oil from a storage container to a component. They provide filtration 24/7 for: bulk storage containers, systems where pressure sources are non-accessible, or where OEM discourages diverting oil from the pressure side of a system.